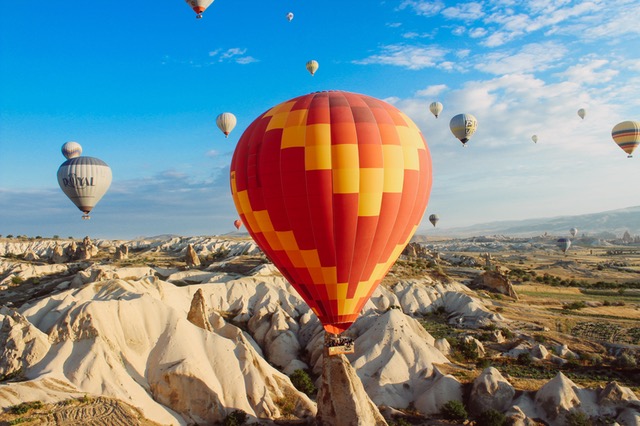 Useful Turkish Phrases and Words
This page will give you a kick-start in survival words and phrases. It would be a good idea to learn some basic Turkish words and Turkish phrases before you travel to Turkey.
No doubt they will be very useful during your travel.
Here is a list of Turkish phrases and words that you can use while you are in Turkey.
Greetings
Hello, Hi – Merhaba
Welcome! – Hoş geldiniz!
In response to 'Welcome!' – Hoş bulduk (means we found nice)
Thank you – Teşekkür ederim
Thank you very much – Çok teşekkür ederim
You're welcome – Rica ederim
Good morning – Günaydın
Good evening! – İyi akşamlar
How are you? – Nasılsın?
How are you? (polite) – Nasılsınız?
I'm fine – İyiyim
And you? – Ya sen?
Goodbye, Bye – Hoşçakal
See you later – Görüşmek üzere
Good night – İyi geceler
Introduce yourself
What is your name? – Adınız nedir?
My name is … – Benim adım …
My name is Jim – Benim adım Jim
Nice to meet you – Tanıştığımıza memnun oldum
You too (as a reply) – Ben de memnun oldum
Where are you from? – Nerelisiniz?
I – Ben
You – Sen
You (plural or polite) – Siz
I am from United States – Amerikalıyım
I am from United Kingdom – İngiltereliyim
I am from Australia – Avustralyalıyım
I am from Canada – Kanadalıyım
English (language) – İngilizce
Do you speak English? – İngilizce konuşuyor musun?
Do you speak English? (polite) – İngilizce konuşuyor musunuz?
Turkish – Türkçe
Do you speak Turkish? – Türkçe konuşuyor musunuz?
a little – biraz
I speak a little – Biraz konuşuyorum
What do you do for a living? – Ne iş yapıyorsunuz?
I work as a … – ….
I work as a teacher – Öğretmenim
How old are you? – Kaç yaşındasınız?
I'm … years old – …. yaşındayım
I'm thirty years old – Otuz yaşındayım
Where do you stay? – Nerede kalıyorsunuz?
I stay at the Marmara Hotel – Marmara Otelde kalıyorum
Turkey – Türkiye
How long are going to stay in Turkey? – Türkiye'de ne kadar kalacaksınız?
For a week – Bir hafta
Asking for directions
Excuse me – Afedersiniz
I'm lost – Kayboldum
Can you help me? – Bana yardım edebilir misiniz?
Where is … hotel? – … Otel nerede?
Where is the Hilton Hotel? – Hilton Oteli nerede?
Where is the pharmacy? – Eczane nerede?
Where is the bathroom? – Tuvalet nerede?, Banyo nerede?
Which way? – Hangi yöne?
Go straight – Doğru/Düz gidin
Right – Sağ
Left – Sol
Then turn right – Sağa dönün
Street – Sokak
Where is … Street? – …. Sokak/Cadde nerede?
Where is Atatürk Street? – Atatürk Caddesi nerede?
Some other useful words and phrases
Yes – Evet
No – Hayır
Maybe – Belki
No problem – Sorun değil
I'm sorry – Üzgünüm
Friend – Arkadaş
Of course – Elbette, Tabi
What is that? – O nedir?
Where is …? – …. nerede?
What? – Ne?
When? – Ne zaman?
Beautiful – Güzel
Delicious – Lezzetli
Water – Su
Here – Burada
There – Orada
ATM – Bankamatik
Possible – Mümkün
Correct, right – Doğru
Wonderful – Harika
Awesome! – Muhteşem!
Happy – Mutlu
Now – Şimdi
Later – Sonra
Ready – Hazır
More – Daha çok
Nothing – Hiçbir şey
Today – Bugün
Tomorrow – Yarın
Tonight – Bu gece
Doctor – Doktor
Police – Polis
I like it – Bundan hoşlanırım
Is it OK? – Tamam mı?
OK, all right – Tamam
That's good – Bu iyi
Very good – Çok iyi
I agree – Katılıyorum
I understand – Anlıyorum
I don't understand – Anlamıyorum
Can you repeat it please? – Tekrar eder misin lütfen?
How do you say … in Turkish? – Türkçe'de nasıl … dersiniz?
What does … mean? – … ne demek?
Can I get Internet access here? – Buradan internete girebilir miyim?
Can you recommend a good restaurant? – İyi bir restoran önerebilir misiniz?
What do you recommend? – Ne tavsiye edersiniz?
How much is it? – Fiyatı ne kadar?
Please – Lütfen
The check, please – Hesap lütfen
Can I take a photo? – Bir fotoğraf çekebilir miyim?
We hope you like it. Please let us know what you think about these useful Turkish phrases.
Discover fantastic things to do, places to go and more. Visit Turkey's official Tourism website here.